Webinar "Awareness of the impact on products in environmental testing"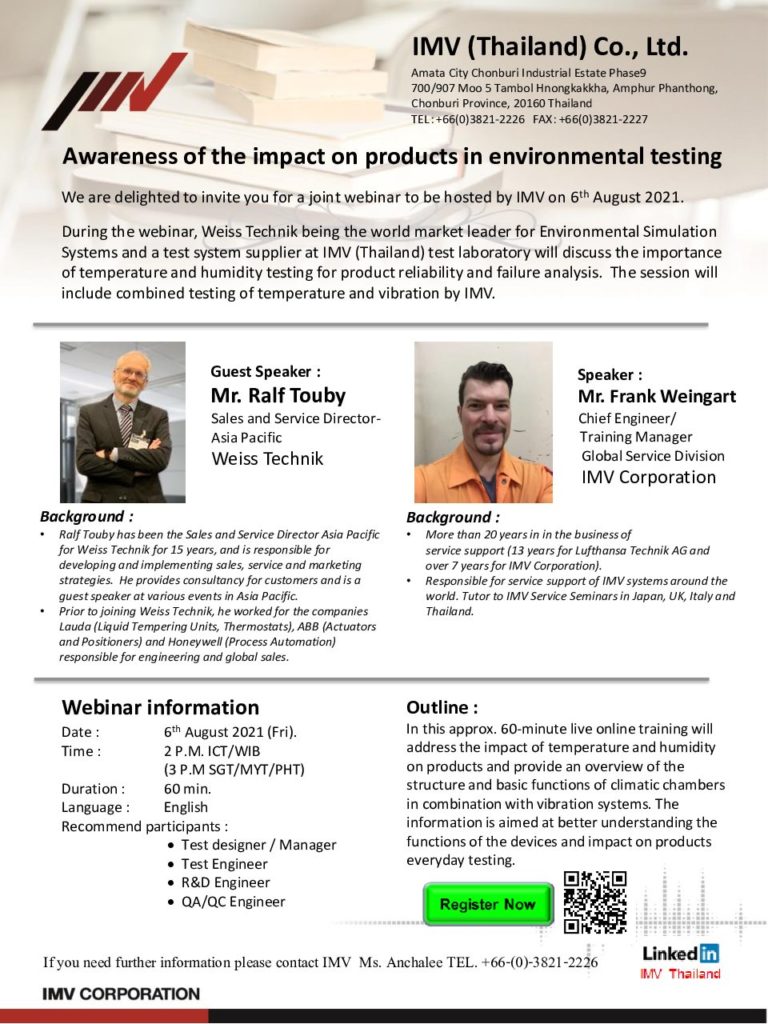 We are delighted to invite you for a joint webinar to be hosted by IMV on 6th August 2021. 
During the webinar, Weiss Technik being the world market leader for Environmental Simulation Systems and a test system supplier at IMV (Thailand) test laboratory will discuss the importance of temperature and humidity testing for product reliability and failure analysis.  The session will include combined testing of temperature and vibration by IMV.
More than 20 years in in the business of service support (13 years for Lufthansa Technik AG and  over 7 years for IMV Corporation).
Responsible for service support of IMV systems around the world. Tutor to IMV Service Seminars in Japan, UK, Italy and Thailand.
Ralf Touby has been the Sales and Service Director Asia Pacific for Weiss Technik for 15 years, and is responsible for developing and implementing sales, service and marketing strategies. He provides consultancy for customers and is a guest speaker at various events in Asia Pacific.
Prior to joining Weiss Technik, he worked for the companies Lauda (Liquid Tempering Units, Thermostats), ABB (Actuators and Positioners) and Honeywell (Process Automation) responsible for engineering and global sales.
Webinar information
Date :  6th August 2021 (Fri).
Time :  2 P.M. ICT/WIB  (3 P.M SGT/MYT/PHT)
Duration :  60 min.
Recommend participants :
  Test designer / Manager
  Test Engineer
  R&D Engineer
  QA/QC Engineer
Outline :
In this approx. 60-minute live online training will address the impact of temperature and humidity on products and provide an overview of the structure and basic functions of climatic chambers in combination with vibration systems. The information is aimed at better understanding the functions of the devices and impact on products everyday testing.
Language :  English