The Revolutionary Instant Clamp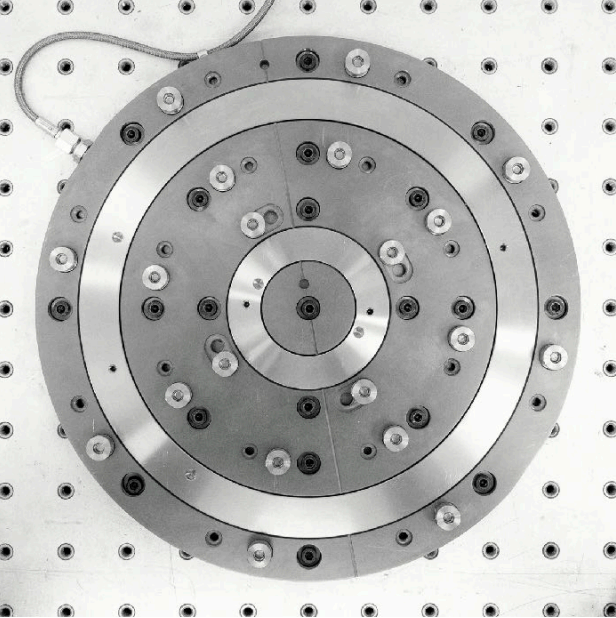 The revolution for clamping your fixtures.
Without screws, quickly installed and the same clamping force as comparable systems
.

With Instant Clamp we recommend a new, revolutionary, patented product for vibration tests of various kinds. Instant Clamp is the simple and reliable clamping device and saves time and effort. After four years of product research and careful testing in the test laboratory, Instant Clamp is now fully developed.
Instant Clamp significantly reduces the time needed to prepare for tests. Screws no longer have to be tightened, so the manual work consists only of positioning the clamp. Operations that used to take up a considerable amount of time and thus cost of the test, now only take half a minute with Instant Clamp. Time savings that multiply with each excitation axis tested.
The simple fixture for simple test facilities
All that is required for the Instant Clamp to function is a connection to a compressor. And this is usually already available when using shakers. If required, the Instant Clamp is simply disconnected from the control panel with a quick release. This further simplifies and speeds up work processes and prevents oil leaks when removing the Instant Clamp from the climate chamber. To avoid potential risks, Instant Clamp prevents the shaker from starting as long as no pressure is applied. This increases occupational safety during all test procedures.
In addition, the construction phase for the test fixture can also significantly shorten. Since it is no longer necessary to provide sufficient space for an operator to tighten the screws, a simpler, more compact fixture design is possible. This creates advantages in terms of cost and fixture performance (more compactness means better dynamic behaviour).
Work safely with Instant Clamp
Instant Clamp uses components that allow it to work in a temperature range between -40 °C and +160 °C and is therefore also suitable for combined tests in the climate chamber. An otherwise rather problematic environment for mounting the fixture.
The wedges are designed to make it easier for the operator to position heavy loads. The mode of operation is explained in the presentation video on the Instant Clamp:
The clamping force is the same as when using screws. Instant Clamp has been successfully tested with both shakers and slip tables during vibration tests (Sine, Random – each up to 2,000 Hz) and shock tests. Instant Clamp can be disassembled quickly and easily. This increases safety during battery tests and helps to isolate the test object quickly in the event of an accident.
The investment for your test laboratory
Thanks to the simplified design for the fixtures and the preparation of the test set-ups, Instant Clamp pays for itself in a short time. Save time and money on your test procedures.
Instant Clamp is available with standard dimensions to fit the most common shakers or with specific other dimensions and shapes.
We would be happy to advise you on how to equip your IMV test system most effectively. Simply contact us.