Konferenzen und Messen: IMV auf der GUS-Tagung 2016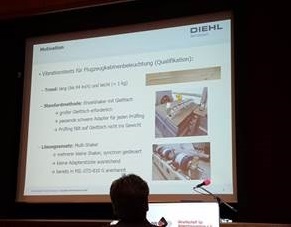 Shaker-Hersteller präsentiert neue A-Serie
IMV bietet Interessenten und potenziellen Kunden in den kommenden Wochen und Monaten diverse Möglichkeiten, das Unternehmen, seine Produkte und das fachliche Knowhow kennenzulernen. Für die GUS-Tagung 2016 Mitte März hat Martin Engelke, Marketing and Sales Manager IMV Europe, gemeinsam mit Fachleuten von Diehl Aerospace einen Vortrag über "Multiple Shaker Application on Aircraft Illumination" vorbereitet.
Die erste Chance, IMV 2016 kennenzulernen, bietet sich auf der InnoTesting, International Conference of Simulation and Testing am 25. und 26. Februar 2016 in Wildau bei Berlin. Thema der Konferenz: Synergy Accross Sectoral Borders. Martin Engelke spricht am 25. Februar, 9.30 bis 11 Uhr, im Rahmen des Workshop-Programms gemeinsam mit Holger Boller, Vibration Research European, und Dr. Christian Dindorf, Gasoline Systems Robert Bosch GmbH, über den "Vergleich der gemessenen Schädigung an einem Bauteil bei sequentieller und simultaner 3 axialer Beanspruchung mit einem typischen Prüfprofil".
GUS-Tagung Mitte März nahe Karlsruhe
Einen Monat später, vom 16. bis 18. März 2016, findet in der Festhalle Stutensee-Blankenloch nahe Karlsruhe die 45. Jahrestagung der Gesellschaft für Umweltsimulation e.V. (GUS) statt. Auch dort wird der japanische Hersteller für Schwingerreger dabei sein: Am Donnerstag, 17. März, 14 Uhr, Vortrag 14, referieren S. Weiß, W. Scheuerpflug, M. Söhnlein, Diehl Aerospace Nürnberg, in Kooperation mit IMV Europe zum Thema "Multiple Shaker Application on Aircraft Illumination". Veranstaltungsort ist die Festhalle Stutensee, Badstr. 7, in 76297 Stutensee-Blankenloch.
Last but not least stellt IMV Anfang Juni auf der Automotive Testing Expo in Stuttgart (31. Mai bis 2. Juni 2016) aus. Erstmalig wird dort auch die neue A-Serie gezeigt. (10.02.2016)