IMV Vibration Seminar was held on 8th December, 2017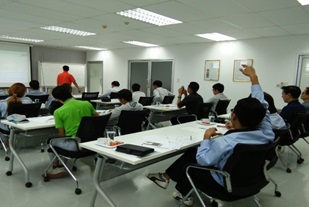 IMV (Thailand) Co., Ltd. has organized a "Vibration Seminar for Beginners" on 8th Dec 2016 at IMV (Thailand) office.  This is 11th seminar by IMV (Thailand) in 2016.  We have invited 15 participants from 9 companies.
In this seminar, 2 companies from these participants have joined to support extended range of environmental testing.  First one is "Intertek Testing Service (Thailand) Ltd." which is a worldwide test Lab Company and has much wide test range in Thailand.  They can support excluding vibration and temperature test as our testing partner.  And another one is "Graphtec Thailand Rep Office" who is a manufacture of data logger in Japan.  They can support test sample status/performance check with several units.  We can see strain, voltage, current, pulse, temperature, and humidity with Graphtec data logger before, middle, and after the environment test.
Our speaker, Mr. Adisak Buathong, Test Laboratory Engineer explained for principle of vibration testing and how to operate our system with fluently speaking.
Some of questions in this seminar are shared as references. Question no.1, are there any difference feedback signals between combined testing and individual testing. The participant wanted to know the effect of temperature with the vibration stress.  Question no.2, what is the difference between sweep testing and spot testing?  What is the meaning of frequency changing?  The participant wanted to know effect of frequency and resonance point.